Cucina Chianti Pours Abundance
"Restaurant open only a few weeks already has a following"
By Leslie Harlib
Special to Marinscope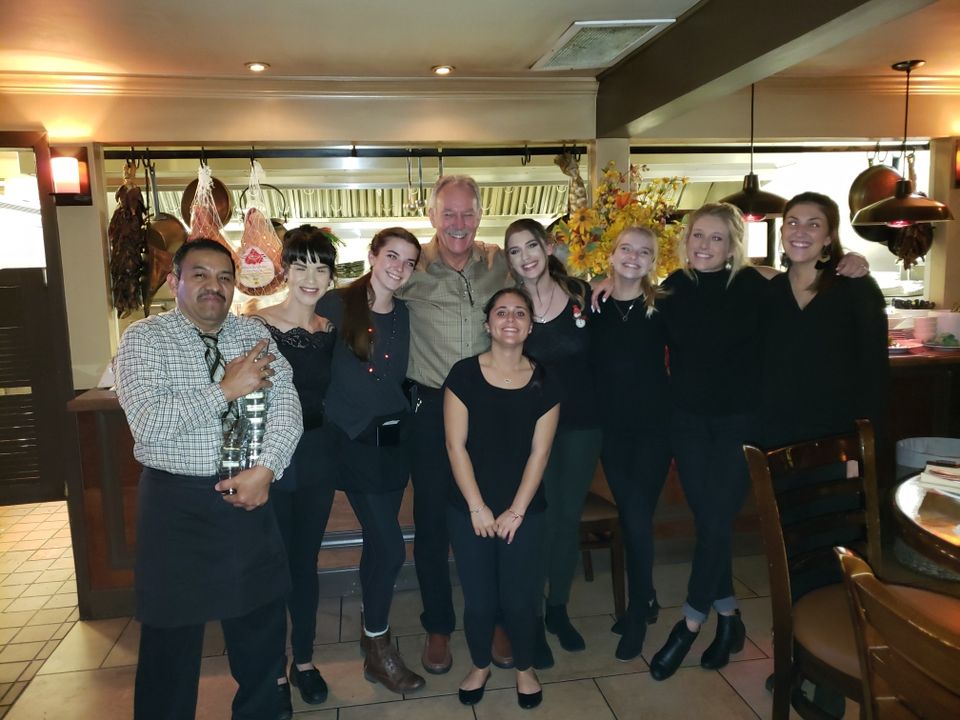 How fortunate to be a restaurateur with a following. To have had 30 years' experience in the hospitality business. To know that even in a down-turned economy, devoted customers will support you because they know that you'll deliver a satisfying meal.
So it's no surprise that Novato's month-old Cucina Chianti is already packed with diners even on weekday nights, with people waiting at the bar for tables.
This new Italian restaurant, on the site of what was Capra's Italian Village for 25 years (the site was vacant for several years after Capra's closed) has been created by two married couples: Ed and Josephine Pizzuti and Mark and Bonnie Robertson.
Both sets of partners are long-time restaurateurs. In addition to their new Cucina, the Pizzutis also own Caffe Giostra in Petaluma. In Marin, their chops include running La Trattoria's Pasta House in San Rafael, Baci Café in Mill Valley and Bolero in the Remillard Brick Kiln in Larkspur Landing. All this took place from the 1970s through the late 1990s — plenty of time to build a following.
Mark Robertson, a native South African, owned restaurants and food concessions throughout South Africa's racetrack world. Mark's a terrific host, and will likely greet you at the door with an accent that makes me think of "King Solomon's Mines," or want to get into a Land Rover to see elephants.
His wife, Bonnie, an interior designer, was in charge of transforming the space from a worn, 1950's-style Italian suburban eatery into a hip, light, bright and warmly inviting restaurant so wholly contemporary, it would be right at home in San Francisco's most sophisticated neighborhoods.
There are two levels. The main dining room is down a couple of steps, in a space centered by a blazing fireplace that was very welcome on a rainy night last week. One wall showcases some of the restaurant's well-balanced Italian and California wine collection, with plenty of moderately-priced bottles. Tables are close together. When crowded, waiters have the challenge of picking their way through the crowd with your meal. The upside of this, is that eavesdropping is easy. And you can eyeball what other people are having up-close — such as an attractive whole romaine-leaf Insalata Romana, lavish with gorgonzola chunks and strips of dried tomatoes ($7.50) — and decide to have one for yourself.
For all the new ownership and new look, the kitchen is headed by Chris Harman, the former owner of Capra's. His presence helps to build that following as well.
Harman's menu is accessible and fun to read. There are two pages, with classic Italian dishes that are as much about comfort as they are about image. Who doesn't expect to find starters such as fried calamari ($9.50) or bruschetta with chopped tomatoes, pesto and mozzarella ($6.95) at a good California Italian restaurant?
But it's the understanding of what works on a contemporary Italian menu in the 21st century that makes Harman's new bill of fare so appealing.
For one thing, there are plenty of vegetable choices, such as a hearty little starter of radicchio al forno ($8.50), three radicchio leaves stuffed almost to bursting with stracchinocheese, then baked and drizzled with balsamic vinegar and olive oil. The pungent grilled leaves were an ideal foil for the mild, melting pockets of cheese inside.
Pizzas here include a creative Tutto Mare ($13.50), a thin, lightly tangy crust laden with chunks and clumps of chopped clams, prawns, scallops, a scatter of fresh parsley leaves, and a sprinkle of parmesan. It's a fine combination and generously put together. A little garlic and a bit more cheese would have made this one of the most impressive seafood pizzas I've ever tasted.
Don't miss house-made ravioli. We sampled stuffed ricotta and spinach squares ($13.50) that were as supple as hand-washed silk: The four-inch-wide ravioli packed plenty of spinach and cheese, had a texture to swoon for, and a light butter and fresh sage sauce that made all the components taste downright elegant.
As someone who craves vegetables and always complains about menus that don't offer enough of these, I'm going to rave about the simple, picture-pretty mélange of seasonal fresh vegetables including eggplant, cauliflower, broccoli, red and yellow pepper, mushrooms and green beans, both grilled and sauteed, then spiked with garlic, sea salt and olive oil. These are $12 for a bowlful on their own, $13 served over ribbons of toothsome pappardelle. I'd go for the noodle version; the pasta added yet another layer of texture and character.
For pure indulgence, try the pork chop Milanese ($17.50). It's a long time since I've had a dish this sensual: the plate-sized pork chop was coated in seasoned, parmesan-enriched fresh bread crumbs, then pan-fried to a golden, crusty finish. It was sluiced with lemon, wine, butter and a scatter of capers, then served with garlicky mashed potatoes and a handful of vegetables in garlic and oil. This dish is easily enough for two.
Most dishes on the menu are under $20, with the exception of bistecca Fiorentina (aged choice rib-eye steak) char-broiled with gorgonzola butter; roasted rack of lamb painted with herb-Dijon crust, both $22.50; or capellini pescatore ($21.95), a mix of fresh clams, mussels, sea scallops, prawns, calamari and fresh fish sauteed in olive oil, garlic clam juice and marinara sauce over angel hair pasta.
Desserts, all made in-house, including a perfect tiramisu ($6.50), barely sweetened mascarpone fluffed over espresso-soaked sponge fingers, with just enough chocolate to make the confection taste a little more complex than most.
I love this new restaurant. It's Italian-California cuisine at its best — flavorful, fresh, clear-cut, hearty but not heavy, and put out with style and warm hospitality. If I lived in Novato, I'd be an instant regular, too.
Chianti Cucina is at 7416 Redwood Blvd. Novato, 878-0314. It's open Monday to Friday, 11 a.m. to 10 p.m.; Saturday and Sunday from 4 to 10 p.m. Reservations recommended. Free parking lot on site or free nearby street parking.