Northbay Biz Review


By Julie Fadda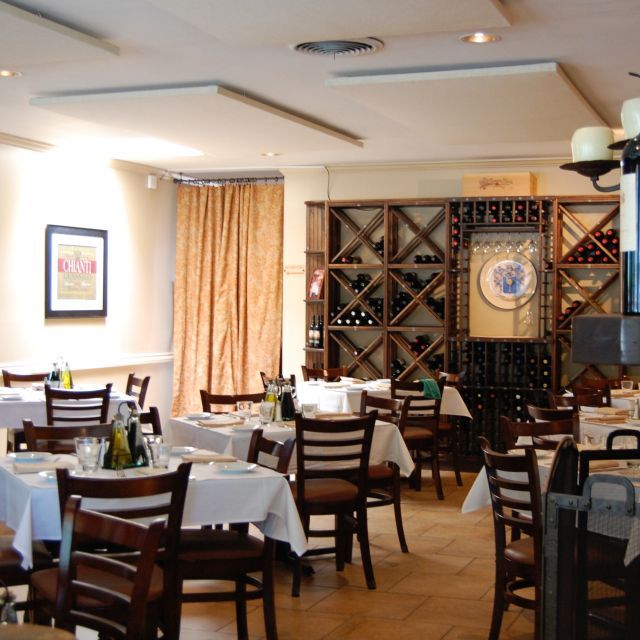 Italian Cuisine Dinner nightly; lunch Tues.-Fri. Entrées (dinner): $10.95-$22.95 Good wine list Owned by Mark and Bonnie Robertson, Chianti Cucina is a transformation of the former Capra's, which previously occupied the space. Bonnie and her two grown children, all interior designers, truly created a classy, comfortable, open-feeling space. Top that with outstanding hospitality from the get-go, and you can easily see why it's such a popular spot.

Now let's talk about the food. First, the wine list has a lot of choices from both Italy and California. We started with Piccini Chianti (classic with great acidity) and Chalk Hill Sauvignon Blanc (full-bodied). Both went well with the special appetizer of zucchini blossoms stuffed with goat cheese, then lightly battered and fried golden, served with baby greens and chopped tomatoes, then drizzled with reduced balsamic vinegar—a great start.

Next was carpaccio, which was thin-sliced, very fresh, extra tender and bright in both flavor and color. It was fanned onto the plate with accents of Dijon mustard, capers, shaved Parmesan, olive oil, with a garnish of fresh lemon slices and fresh greens.

The spinach salad came with roasted and sweet red and gold beets, creamy crumbled Gorgonzola, olive oil and crispy pancetta—an earthy, salty and sweet treat all in one.

A glass of J Pinot Noir (lush, rich) accompanied our next course wonderfully. A special entrée of rack of lamb had six pieces cooked medium rare, bursting with natural flavors and so tender it practically fell off the bone. Served with buttery, creamy mashed potatoes and sautéed seasonal vegetables, the generous portion was entirely delicious.

One of my favorite things to order in an Italian restaurant is lasagna, so I was delighted when I saw two different types on the menu. We chose the lasagna Bolognese, which was also a generous portion, with plenty of meaty, flavorful sauce and melted cheese—rich, comforting and perfect, it certainly didn't disappoint.

For dessert, we went for the special, which was a large scoop of gelato encrusted with chopped hazelnuts. It had a melted chocolate center and was surrounded with fresh strawberries, raspberries and blackberries and a chocolate drizzle. Our server also brought biscotti and port to the table, then suggested we dip the cookies into the wine. So why not? At first our taste buds didn't know quite what to make of the combination, but after a couple bites, we were truly enjoying it. We left with full bellies and big smiles!